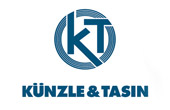 Registered office&nbsp&nbsp&nbsp&nbsp
Via Marzabotto 63 - 20037 Paderno Dugnano (MI)
(+39) 02 971695&nbsp&nbsp&nbsp&nbsp
Contact: Alessandro Camerota – Pietro Mambrini&nbsp&nbsp&nbsp&nbsp
---
---
Video
Künzle&Tasin Srl - corporate video
MODULE - the Kunzle&Tasin's "3in1" machine
---
Kunzle&Tasin, quality and innovation since 1946
Kunzle&Tasin Srl, founded in 1946, is the supplier for some of the most important rental and professional floor contractors companies in the world, with a complete range of equipment for treatments on all major surfaces, in particular on wood.
In 2010, Kunzle&Tasin became part of the Biffignandi Group, combining internationality, innovation, tradition and solidity.
In the meantime, the new challenges of national and international markets required the ability to look also to other sectors, not necessarily linked to the company's traditional core business. With this awareness, in 2018 Kunzle&Tasin launches MULTI MODE LINE, the new line for professional cleaning. It includes models with unique and distinctive features that guarantee the best cleaning performance in various contexts. A multidisciplinary approach that allows to meet the needs of professionals who work in different environments and sectors, especially sports facilities, combining at best quality and results.
The MODULE scrubber-sweeper by Kunzle&Tasin
The flagship of the MULTI MODE LINE range is the MODULE scrubber-sweeper, the sole compact machine on the market that incorporates the 2 main functions of a fine dust sweeper and scrubber dryer. This makes it a particularly suitable solution for environments such as tennis courts and sports centers, which require both treatments: both dust extraction (more frequent) and actual surfaces washing. The final result is perfectly clean and sanitized surfaces.