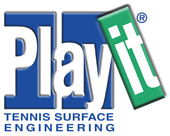 via Santa Maria, 28 - 25015 Desenzano d/G (Bs) - Italy
(+39) 030 9912 354&nbsp&nbsp&nbsp&nbsp
(+39) 030 9144 508&nbsp&nbsp&nbsp&nbsp
Contact: Gianfranco Zanola&nbsp&nbsp&nbsp&nbsp
---
---
Play-It ® is a leader company in the construction and renovation of tennis and multi-purpose courts.
Born in 1994 from the passion for tennis, Play-It ® is expanded globally, providing the surfaces of many tournaments around the world as David Cup, PTT Thailand Open, St. Petersburg Open and Stockholm Open.
The best tennis players have played on Play-It ® surfaces.