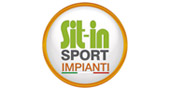 Sit In Sport Impianti srl
via Zanica, 17 - 24050 Grassobbio (Bergamo) - Italy
(+39) 035 824433&nbsp&nbsp&nbsp&nbsp
(+39) 035 8168 99&nbsp&nbsp&nbsp&nbsp
Contact: Oscar Biancardi - Alex Micheletti &nbsp&nbsp&nbsp&nbsp
---
---
Sit In is a leading company in the construction of sports facilities, specializing in the realization of synthetic grass soccer fields, with LND approval, 7-a-side and 5-a-side soccer fields, tennis courts, sports floors, such as: acrylic resins, resilient rubber and PVC floors for indoor and outdoor fields, construction of sports covers with arches in laminated wood, pressostatic.
Completion works for playgrounds: lighting systems, irrigation systems, sports fences.
Support to the design of sports facilities.