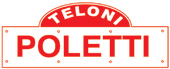 corso Italia, 19 - 28010 Fontaneto d'Agogna (NO) - Italy
(+39) 0322 862042&nbsp&nbsp&nbsp&nbsp
(+39) 0322 862083&nbsp&nbsp&nbsp&nbsp
Contact: Nicolò Poletti&nbsp&nbsp&nbsp&nbsp
---
---
Founded in the 80s, Teloni Poletti srl designs, builds and installs covers for sports facilities, industry and recreational use.
The company is present as a qualified operator in the sports coverings sector offering different types of products:
pressostatic structures – very versatile and suitable for seasonal use, they do not need a fixed structure as they are supported and stabilised by internal overpressure
coverings with a steel or glulam arched load-bearing structure – fixed structures with textile membrane roofing
tensile structures – where one of the factors contributing to structural stability is the tension of the textile membrane itself
paddle covers – a new type of lightweight structure with considerable structural resistance specifically designed to cover paddle tennis courts
The covers can be supplied complete with what is necessary to be ready for use: lighting system, ventilation and heating system (essential for the pressostatic structures), air distribution duct. All materials and machinery supplied comply with current reference standards and are of high quality/efficiency.
Design and partnership of Teloni Poletti
The ability to produce, the partnership with qualified specialized designers and the experience gained over many years allow us not only to obtain a high quality standard resulting from the total control of each stage of production, from the choice of materials to the assembly of the products on site, but also a constant study of customer needs in order to meet their needs. It is precisely by following these principles that we have studied and developed new systems that allow us to obtain high energy efficiency and a considerable reduction in plant management consumption.
The company has been certified SOA -cat. OS33 since 2004 and since 2013 we have been certified according to UNI EN ISO 9001.