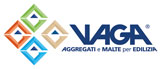 località Sostegno sp 199 - 27010 Costa De Nobili (PV)
(+39) 0382 727 111 &nbsp&nbsp&nbsp&nbsp
(+39) 0832 729 611&nbsp&nbsp&nbsp&nbsp
Contact: Fabio Baldassari &nbsp&nbsp&nbsp&nbsp
---
---
For more than 30 years, Vaga has set up its business by enhancing the value of siliceous aggregates with increasingly efficient production processes and state-of-the-art production facilities, always paying special attention to innovation, quality, environment and safety.
The plant for the packaging and production of ready-mixed mortars for the construction industry is the flagship of this process, while the new lines dedicated to finishing, concrete, masonry mortars and sub-bases allow the company to position itself as a safe and reliable partner in the world of traditional building.
Vaga has always placed the focus on research and development of new products and new solutions at the basis of its work, trying to follow the changes in the sector and the demands of the market, with the aim of designing and developing products that respond better and better to the different needs of end users. The research laboratory is committed to studying new products and materials. One example is the introduction, for the first time in the specific market of pre-dosed plaster mortars, of polypropylene fibres which, associated with the special formulation, guarantee the absence of cracks caused by plastic shrinkage and give the product excellent workability.
Vaga is a dynamic company that, by DNA, is attentive to new market trends, in particular to environmental issues and therefore to eco-friendly systems and methods; the internal BIO certification mark identifies all those products in the Vaga building line that are made only with high qualitỳ natural raw materials and that, due to their characteristics, are ideal to be used, according to the most modern Green Building construction techniques, in Biocompatible constructions, thus creating healthy and breathable environments.