Giaveno (Turin): Athletics track into the Antonio Torta Stadium
Among the most important athletics facilities in Italy, the one in Giaveno was brought back to optimal conditions in 2019.
Also published in: Tsport 337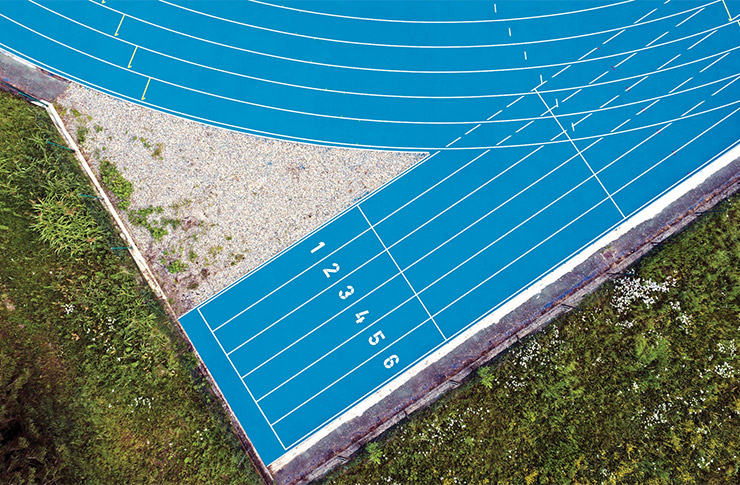 Giaveno is a small municipality in the Piedmont region. The Antonio Torta Stadium with adjoining grandstand is not quite as old, but is also historically significant. The La Salle Sports Union athletics clubs currently train here.
The investment for the renovation of the outdated sports venue was intended to improve sporting facilities for Giaveno residents and young athletes in particular. Until recently, competitions could not be held locally, even at regional level. The facility simply lacked the necessary certification, resulting in long trips to the venues.
The old track at Antonio Torta Stadium dates back to 1992 and was exhibiting wear and tear. As part of the renovation, the old surface was removed and the 400 m athletics track was equipped with a bright rainbow blue professional sports surface Rekortan M by Polytan. It was installed in conjunction with Rekortan M in red, for example as a boundary for the long jump start. Positions for shot put, discus and javelin have been renovated and platforms for jumps and referees have been added. Rekortan M is a coated surface whose granulate is interspersed with visible tips, so it is absolutely spike-compatible and waterproof.
Athletes have been impressed by the benefits of the new track since June 2019: the surface stands for excellent acceleration and high tread elasticity. It is also characterised by excellent damping and achieves the best values from a sports medicine perspective.