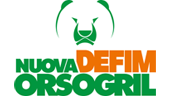 via Cavolto, 10 - 22040 Anzano del Parco (CO)
(+39) 031 33521&nbsp&nbsp&nbsp&nbsp
(+39) 031 3352138&nbsp&nbsp&nbsp&nbsp
&nbsp&nbsp&nbsp&nbsp
&nbsp&nbsp&nbsp&nbsp
&nbsp&nbsp&nbsp&nbsp
&nbsp&nbsp&nbsp&nbsp
&nbsp&nbsp&nbsp&nbsp
Contact: Ester Cottone&nbsp&nbsp&nbsp&nbsp
---
---
Video
Passion around you
Recintha N/L
---
Nuova Defim SpA offers mesh and grating solutions on the national and international market. It is the only European player specialising in the production of special electrowelded mesh and grating under the Orsogril brand, fences and gates for professional, industrial, civil and sports use. An efficient service and an excellent technical department at the customer's service complete the offer of a unique range in terms of assortment, quality and Made in Italy design.
The company, part of the Feralpi Group, has a quality system that complies with UNI EN ISO 9001/2015 standards.
The horizontal gratings are CE marked in accordance with the European Construction Products Regulation.
New Defim Orsogril for sport
The range of fencing is very wide and several are particularly suitable for sports use, including Recintha Stadium, which complies with the latest European standards (UNI EN 13200) and allows you to enjoy sport in safety.
Also suitable for sports facilities are Recintha N/L, Recintha PG and Acumina.