via Po, 12 - 64018 Tortoreto (TE)
(+39) 0861 784200&nbsp&nbsp&nbsp&nbsp
(+39) 0861 781035&nbsp&nbsp&nbsp&nbsp
&nbsp&nbsp&nbsp&nbsp
&nbsp&nbsp&nbsp&nbsp
&nbsp&nbsp&nbsp&nbsp
&nbsp&nbsp&nbsp&nbsp
&nbsp&nbsp&nbsp&nbsp
Contat: Flavio Faraone&nbsp&nbsp&nbsp&nbsp
---
---
Video
Stadio Nazionale Qemal Stafa - Tirana
Stadio Nereo Rocco - Trieste
---
Faraone was founded in 1969 thanks to its founder Sabatino Faraone operating in the window and door frame sector. Since 2000 it has focused on solutions for Transparent Architectures. Since 2009 it has been innovating the parapet market with the NINFA "all-glass" range in continuous renewal to keep up with new regulations and to improve performance and speed of installation.
Faraone design glass parapets – for grandstands of sports facilities such as stadiums, sports halls, swimming pools, tennis courts, racetracks – take into account the in-depth study of the regulations and lead the company to the need to create a certified internal laboratory that tests daily both new products and the solutions requested by customers.
Many people neglect this aspect, however it is important to know in depth the behaviour of the glass in every situation related to the system used, the type of fixing, the type of floor or floor.
The range of NINFA glass parapets is designed to increase the spectator's visual comfort (no visual barriers) in total safety thanks to compliance with the regulations in force according to the intended use within the same system (from 200 kg/m NINFA 56 to 1000 kg/m NINFA STADIUM).
NOTE: NINFA technology has passed the URAGAN Tests in Florida!
Thanks to the constant dialogue between the Faraone staff, clients, installers and designers involved, the NINFA Stadium glass parapet has been installed inside: Roland Garros, Paris – New National Stadium, Tirana – Gewiss Stadium, Bergamo – Juventus Sports Centre, Continassa – Mugello Circuit – Friuli Stadium, Udine – Nereo Rocco Stadium, Trieste – Piscina Felice Scandone, Naples – Pino Zaccheria Stadium, Foggia – Paolo Mazza Stadium, Ferrara – Gran Sasso d'Italia Stadium, L'Aquila – Palazzetto di Maniago, …
We also propose solutions of dividers, canopies, doors, glass facades for other rooms inside the sports centre.
Faraone Architetture Trasparenti – parapets, balustrades and curtain walls for sports facilities, interiors and street furniture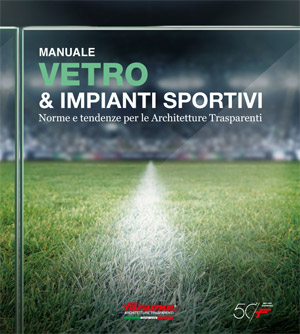 Download the Vetro & Impianti Sportivi manual. Norms and trends for Transparent Architectures and find out everything about Faraone's study concerning the point of view of the main actors (spectators, designers, newspapers), the rules in force, the technical solutions to be considered, the importance of the installation in a workmanlike manner, the certificates to be obtained and the site tests to be carried out.
Special "The word to the designers": Arch. Marco Casamonti (Archea Associati), Arch. Gino Zavanella (GAU Arena), Arch. Paolo Pettene (SdiA) and Ing. Carlo Rotellini (Teco+).
DON'T PLAY WITH SAFETY!
A NYMPH SYSTEM FOR EVERY USE.
Use Pharaoh compliant solutions, both for sports facilities and for public and private places.
Find together with Faraone's staff the ideal solution for the sports facility.