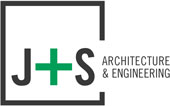 Operative center: via Turati 7, Milano
HQ: via dei Mestieri 13, Concorezzo (MB)
(+39) 039 688 6381&nbsp&nbsp&nbsp&nbsp
(+39) 039 688 6380&nbsp&nbsp&nbsp&nbsp
Contact: Federico Pella - Gabriele Mora&nbsp&nbsp&nbsp&nbsp
---
---
J+S is an architecture and engineering company with almost 30 years of expertise internationally. The team of over 70 professionals is in charge to develop and manage complex projects, particularly in the fields of urban leisure and infrastructure.
Many years of expertise in integrated design and work management, along with the synergy between the different business units (architecture, hydraulics and infrastructure), emphasize all projects in which innovation, sustainability and design become the protagonists.
J+S has been operating for several years with the BIM system and since June 2020 obtained the certification for its Architecture and Infrastructure business unit.