Imperia: Renovation of the Felice Cascione municipal swimming pool
The redevelopment and efficiency measures of the Felice Cascione municipal swimming pool have been completed.
Also published in: Tsport 338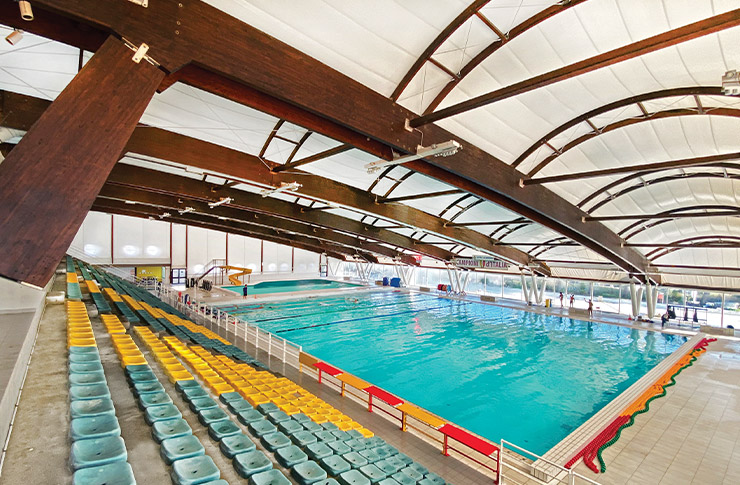 The city of Imperia has entrusted S.T.P. Architetto Paolo Pettene & Partners Srl with the task of designing and supervising the works of the two lots for the redevelopment and upgrading of the municipal swimming pool, included in the POR FESR programme of the Liguria Region. The works were started and duly completed in two years of the 2019-2020 construction period.
The efficiency enhancement works on the external shell consisted of replacing the existing single-membrane PVC covering with a new generation double reinforced PVC membrane with an air chamber in between, with a roofing system fixed to the existing structure of laminated wood with a tensostatic type.
The second phase included further energy efficiency works, in particular for the thermo-ventilation and air-conditioning systems, as well as the redevelopment works with efficiency improvements to the pool and the perimeter beach floor. The aim of the second phase project was to further improve the internal microclimatic performance conditions of the existing swimming complex.
The pool underwent a complete renovation of the waterproofing with polyurea coating and the special ceramic pieces of the Finnish overflow edge.

In conclusion, another important energy requalification and efficiency project has been completed in a structure that can be classified as a hybrid (summer-winter) with interventions aimed at the management and maintenance effects in a complex dating back to the seventies, which has been completely re-functionalized with corrective measures to normalise the systems and, in perspective, with a significant reduction in energy consumption that will be monitored remotely.