Bad Wimpfen (Germany): Renovation of Solebad
Solebad saltwater baths in Bad Wimpfen have been renovated with an attractive and modern design.
Also published in: Tsport 353
Together with a health clinic, hotel and entertainment hall, the saltwater baths Solebad form an ensemble of buildings in the spa town of Bad Wimpfen. In order to render the existing facilities dating back to the 1970s fit for the future, the health spa was attractively redesigned and the entire pool engineering being renovated.
As part of the ensemble of health clinic, hotel and entertainment hall buildings, the Solebad Bad Wimpfen saltwater baths is connected via a shared foyer to the entertainment hall.
In order to keep the structural measures on the ensemble as far as possible to a minimum and to save resources, the health administration decided on renovating the existing building in favour of constructing a new building.
The characteristic elements of the original building definitively shape the new bathing hall whilst ensuring that it also retains its distinctive design after its modernisation.
The renovation of Solebad saltwater baths in Bad Wimpfen comprised the central bathing hall with the entrance area and foyer along with the changing wing.
In order to extend the range of bathing options for visitors, the bathing hall was enlarged by a relaxing area and a new wellness area was supplemented with a steam bath and relaxation room.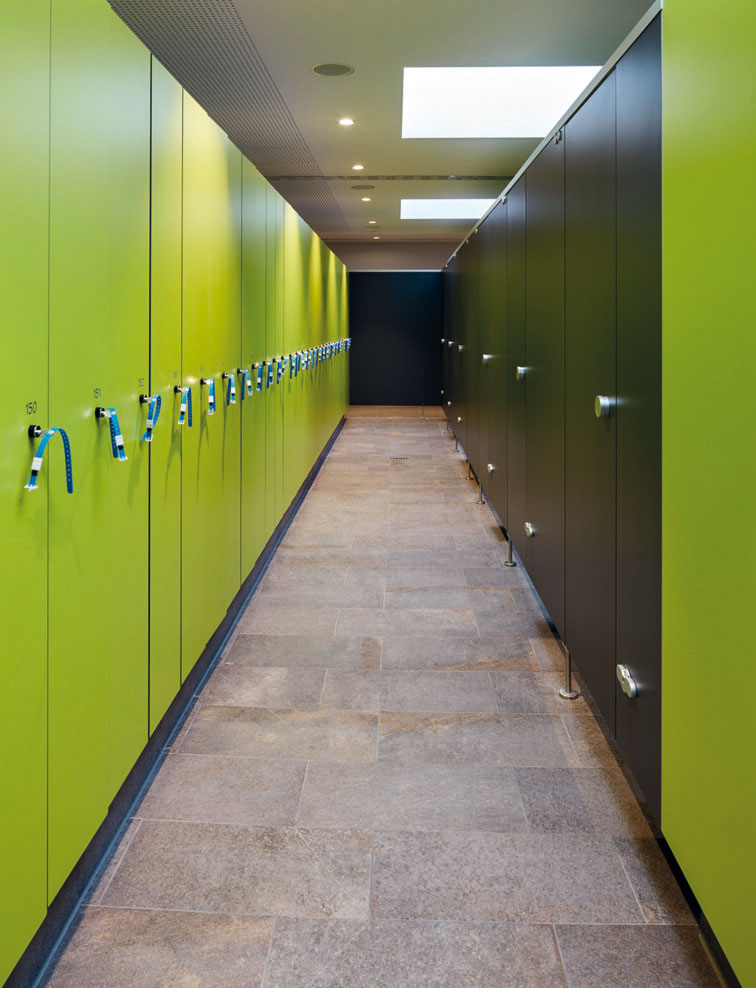 The basic structure and the supporting framework remain largely intact as therefore also does the polygonal floor plan of the bathing hall.
The inner pool, centrally located in the bathing hall and constructed as a hexagon, was provided with new surfaces, a new pool edge and convenient means of access. A strikingly folded wooden-slat ceiling stretches across the pool over the ends of the pool, lending the interior a very special atmosphere. Moreover it ensures a relaxed stay with its acoustic efficiency.
The glass steam bath connects to the bathing hall, behind it being a shielded relaxation room with a view of the outdoor area.
Warm colours and materials provide the interior an elegant look while contrasts are set by ochre-coloured walls and black mosaic tiles in the steam bath along with the changing rooms with their green design.
Particular effects are created by the salt-stone wall in the relaxation room with its coloured background lighting.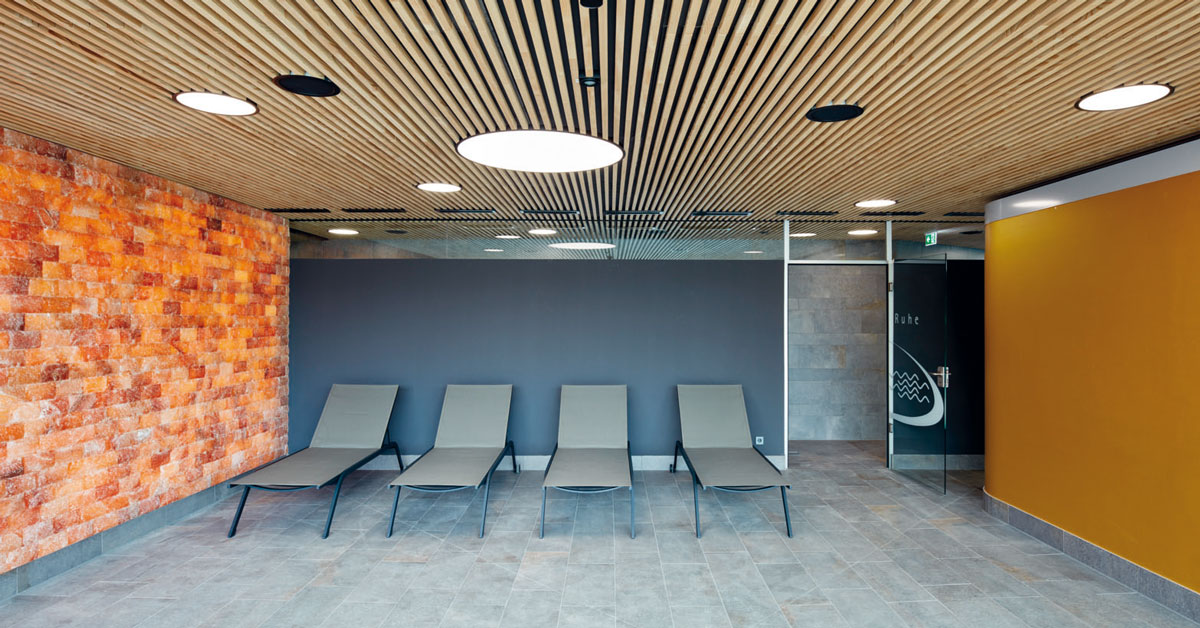 The saltwater outdoor pool has also been renovated and has been provided with two additional exits for greater convenience and spacious resting areas have been created around the pool along with the channel that connects it to the indoor pool.