Milan: Redevelopment of the M. Giuriati Sports Centre
The historic Giuriati Sports Center has been completely renovated with an important economic intervention by the Milan Polytechnic.
Also published in: Tsport 338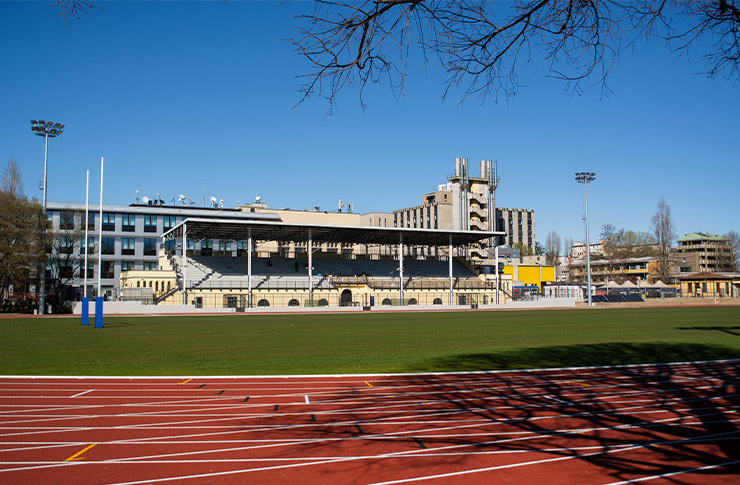 The Giuriati Sports Center, with 36,000 sqm of surface and 12 practicable disciplines, is located in the heart of the historic Leonardo Campus of the Politecnico di Milano. The centre has been completely renovated and is ready to become a place of sharing, participation and integration for students, the Politecnico community and all the citizens of Milan. The new facilities have been built and fitted out in the name of technological innovation and energy sustainability in one of the most complete sports facilities in the city.
The project to expand the sports facilities, after being discussed with the Municipality of Milan, was engineered during 2018, improving the original aesthetic appearance and increasing the quality and sustainability of the building as well as the outdoor spaces in front of it.
From these design activities, the project to expand the sports centre took shape, leading to the construction of the new Fit Center on three levels, which houses the training rooms, reception, medical rooms, changing rooms and dedicated offices; alongside this important function is the Arena, where it is possible to play basketball, volleyball and five-a-side football, welcoming two hundred spectators.
With the start of the expansion work, the Polytechnic has also used its own funds to design the redevelopment of the entire sports centre, upgrading the athletics track and the natural grass rugby pitch, and completing it with a dedicated lighting system as well as adding a 3 vs 3 basketball court, a third synthetic grass five-a-side football pitch, two covered padel courts, a 200 square metre area for master classes and a calisthenics area currently being installed.