That's just the title of this photo, taken before the start of the Muse concert on July 12.
But…
Published also in: Tsport 328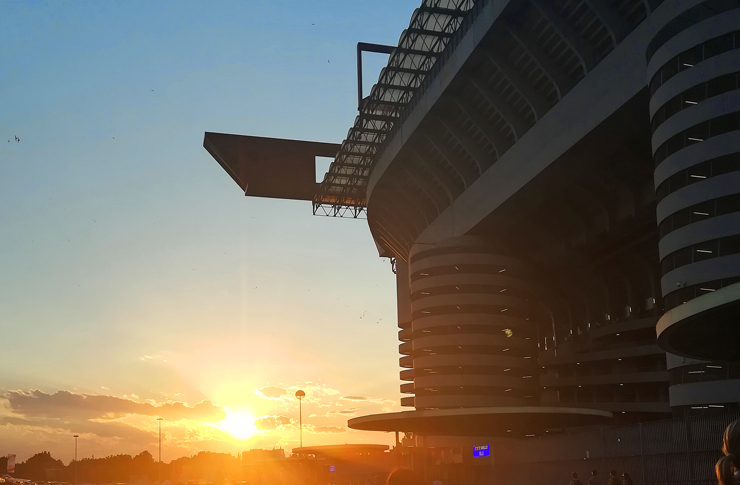 (Ph. by Beatrice G.)
In the same days the feasibility study for a new facility shared between the two Milanese football clubs, Inter and Milan, arrived on the table of the Mayor of Milan, which could be built in the same area of the current Meazza Stadium, and would prelude to its demolition.
What is known as San Siro Stadium is 93 years old, but its current silhouette dates back to the World Cup of '90, when the third ring and the roof of the stands were built.
Should it be replaced, then?
The feasibility study (without, for the moment, an architectural definition) shows the real driving force behind the proposal: the need to make the management of the sports facility economically efficient by creating "a large square with a widespread park on which will face a shopping center, a space for entertainment and three buildings with commercial function, plus two underground levels of parkingÔÇŁ. There's a lot more to it than football.
And here are the doubts, on the other plate of the scale. Until recently, the hypothesis of two stadiums owned, one for each team, and of which one could be the renovated Meazza, was not under discussion? Is it worthwhile to continue on the road of the shared facility?
Beyond the "historical" value, for the citizens of Milan the current San Siro is a symbol that comes just after the Duomo. In spite of its date of birth, it is one of the few UEFA Category 4 qualified stadiums, it is the largest in Italy (80,018 seats), and offers the size for concerts with a large attendance, even if the equipment of services should certainly be improved.
The mayor of Milan himself is against the demolition, and expects that the opening show of the Winter Olympics in 2026 will take place in the current San Siro.
So let's take with due caution the proposal of the two Milanese clubs, let's take into account the urban planning, the landscape, the infrastructure, the history, and let's not be misled by the promises of "an urban district, modern, sustainable and accessible".
We are at a first examination; for the moment, the sunset of San Siro is still far away.