In Roehampton an Italian coverage on the courts of the UK National Tennis Centre
The Lawn Tennis Association's high-performance training center required the coverage of a double clay court with a large pressostatic structure.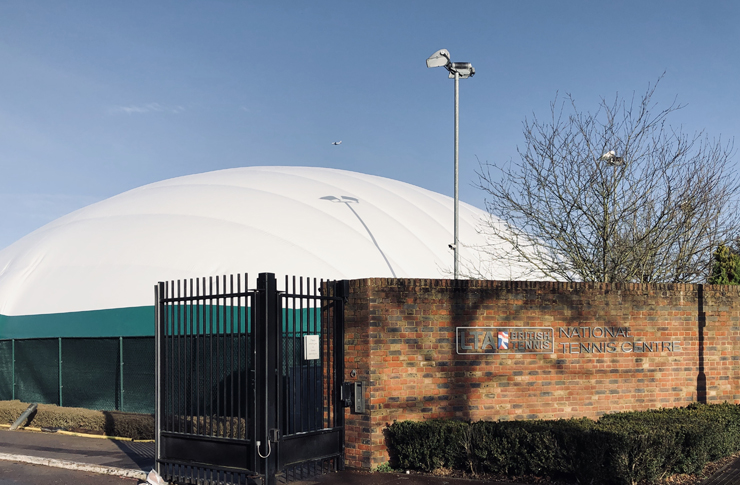 The UK's National Tennis Centre in Roehampton, South West London, is the Lawn Tennis Association's (LTA) high performance training centre, officially opened by Queen Elizabeth II on 29 March 2007. The centre has 20 tennis courts, three padel courts (under construction), accommodation and a world-class sports science centre.
For the roofing of a double clay tennis court in the Roehampton sports centre, CIS 2000 – the Italian company specialising in the construction of special roofing – has employed internationally renowned professionals who were entrusted with the design of the pressostructure and lighting system.
The design of the pressostatic cover to be sent for processing was carried out by Maffeis Engineering SpA, a design studio that has participated in the engineering of important stadiums and sports facilities around the world. The lighting design was carried out by Studio Andrea Mazzoli & 3A Architecture.
From project to realization
The pressostatic roof, 34.73 by 33.36 metres, with double membrane (700+700 grams per square metre), reaches a height of 11.50 metres.
Inside, a latest-generation lighting system is installed, consisting of 24 380 W LED lights, capable of complying with the standards required for international performance (at least 600 lux PPA and 500 lux TPA).
The roof is equipped with an entrance block formed by a rotating door and entrance tunnel (completely panelled) with a length that allows the passage for disabled people. It is equipped with an emergency exit.
A 300,000 kcal condensation generator complete with emergency generator and diesel generator has been installed to support the roof.
CIS 2000 took care of the complete construction of the entire facility, from the electrical part to the plant engineering part, meeting with professionalism the regulatory requirements that, at international level, are often different from those required in Italy.