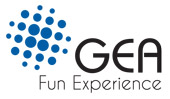 Registered office&nbsp&nbsp&nbsp&nbsp
Strada Parma, 35/a - 43013 Langhirano, fraz. Pilastro (PR)
(+39) 0521 853262&nbsp&nbsp&nbsp&nbsp
Contact: Matteo Pulli - Giovanna Della Cagnoletta&nbsp&nbsp&nbsp&nbsp
---
---
Video
GEA Fun Experience
GEA SUPERSLOPE
---
Gea Srl – Fun Experience has been present in the sector for over 20 years with a consolidated experience in setting up playgrounds and sports areas.
The brands are part of Gea:
superSLOPE, for the creation of temporary or permanent installations, on a lawn or on a snow-covered track, which allow you to experience emotions of speed, driving, play, in complete autonomy and favoring the process of growth and improvement in sport
activePARK, for the design and construction of parks integrated into the context and respectful of the environment, in all seasons and climatic conditions
INside, for the design of indoor environments in small spaces and large areas, with standard products from the catalog or made to measure
TECHline, for the creation of a system applied to an interactive and obstacle course, in which competition is intertwined with the playful use of spaces
All-round fun specialists
Whether it is a public or private construction, in the plains or in the mountains, outdoors or indoors, Gea creates areas where children and teenagers can have fun in a safe environment, and supports the principle of inclusiveness by equipping parks so that they are accessible and usable to all.
The company designs and sets up spaces for playing, playing sports and living together in an active way and respecting the environment, and produces certified and selected products to ensure durability with minimal maintenance. It also follows its customers in every phase of the project, from preliminary to installation, with the possibility of also taking care of the maintenance itself.
Gea Srl – Fun Experience installs, among others, Eibe, Quali-Citè, Herkules, Berliner and Aladin Design products (brand owned by Gea Srl).