The certified turf at the Liguori Stadium in Torre del Greco
The historic stadium of Turris Calcio is now equipped with a new synthetic turf certified Fifa Quality Pro.
Also published in: Tsport 341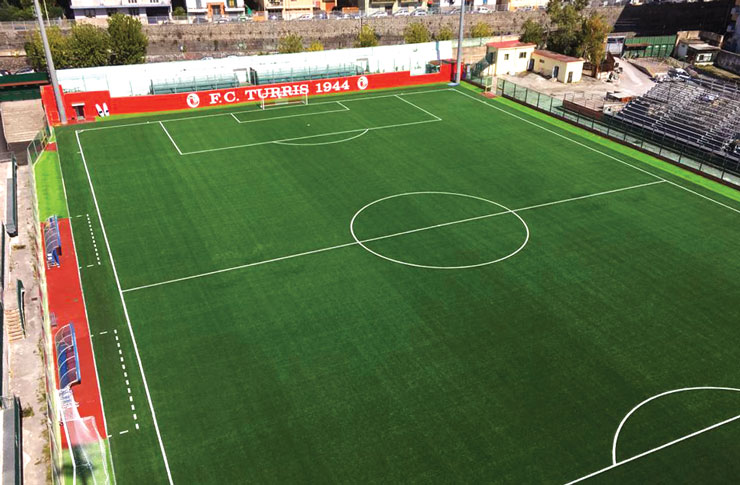 The Amerigo Liguori Stadium in Torre del Greco (Naples) was inaugurated in 1950, and is still the home of Turris Calcio, now playing in the C Series.
Over the years, the facility has undergone several improvements, including the introduction of synthetic grass in 2009.
Since 2019, the stadium has undergone new structural works as part of the works for the Universiade facilities. These include the installation of a new synthetic turf surface, which has obtained Fifa Quality Pro certification.

The resurfacing work of the Liguori Stadium, for a total of 506,499 euros, was carried out by Habitat with the installation of Mondoturf 4NX 50 mm Mondo.
This is an artificial turf surface of the latest generation composed of monofilament 4NX straight structure and semi-concave section with 3 asymmetrical ribs, completed with a performance infill in granules of SBR and an elastic cushioning underlay.
The system thus composed favours the correct rebound and rolling of the ball and ensures homogeneous support for the acceleration, rotation and torsion movements of the players, limiting the risk of injury and premature fatigue.
In particular, the 4NX monofilament combines a unique morphology with superior thickness for greater elastic memory capacity. The grass tufts quickly return to their original position after foot pressure and remain in a straight position when the ball is passed, maintaining the pitch's rolling and rebound values for longer.
(News by Mondo Spa).