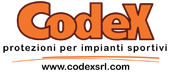 via Ferrara, 6 - 31030 Dosson di Casier (TV)
(+39) 0422 634040&nbsp&nbsp&nbsp&nbsp
(+39) 0422 633193&nbsp&nbsp&nbsp&nbsp
Contact: Barbara Cinti&nbsp&nbsp&nbsp&nbsp
---
---
Codex Srl, which has been operating for over 45 years, specializes in the design, production and installation of 360 ° safety protections, with sales in Italy and abroad. Thanks to in-depth studies in various fields, we have designed and patented safety products, originally non-existent on the market.
We can provide endless solutions for satisfying all requirements concerning the safety of indoor and outdoor areas of schools, sports facilities, play areas and public parks, factories, cruise ships, hospitals, accommodation facilities (both public and private).
Safety protections for every environment
In our wide range of products, often supplied cut-to-size and ready for installation, we can find:
Soft padding protections: wall paddings, column and pillar coverings, corner guards, other customized paddings. Our safety protections are made by using two products: Onda (thickness 22mm) and Maxionda (thickness 28mm). Both products are tested according to UNI EN 913 Annex C and available in the non-toxic version and non-toxic/fireproof Bfl-s1 version.
Radiator covers and safety gates for kids: Custom made covers for radiators, made of non-toxic, shockproof, anti-splinter and fireproof plastic tubular. Unlike many other similar items on the market, our "Eurotermo" radiator covers resist the hammer test: the tubular deforms but does not break.
Perimeter Advertising System: Advertising billboards used in indoor and outdoor sports facilities. Light, resistant, stable products, easily foldable and transportable. Made with non-toxic, impact-resistant, anti-splinter plastic tubular.
Shockproof rubber floorings for outdoof: SBR rubber granule flooring (100% recycled) composed of plates with a "dovetail" joint system. Quadrio, 20mm thick, is mainly used to pave school squares, public areas, walkways, stables and fitness areas (crossfit). Polyshock, of variable thickness from 25 to 45mm, is used as shockproof flooring for playgrounds (tested according to UNI EN 1177: 2008).
Interlocking mats for indoor: Puzzle floorings of various formats and thicknesses. Made of E.V.A. non-toxic and suitable for private use, schools and sport facilities (martial arts).
Certifications and quality
The commitment to quality is guaranteed by the numerous certifications and patents that accompany all products. Codex's padding protections, safe and highly effective, are accompanied by test reports and comply with CE standards.
All the products, original and rigorously "Made in Italy", are the result of in-depth studies, research and selection of high quality raw materials suitable to meet the different needs of customers.
The technical staff and distributors are at your disposal for advice, inspections and free estimates. For info visit www.codexsrl.com