Fieldhouse in Egna (Bolzano): a sports facility for football
Fieldhouse in Egna, in the province of Bolzano, is a football and leisure facility with a strong architectural impact.
Also published in: Tsport 353
Modus Architects were commissioned to realize Fieldhouse in Egna (Bolzano), a new sports facility for football.
The work started with demolishing the old building that housed the changing rooms and sports association, and proposing a new building with an extension that improves the building's energy efficiency by reusing the existing photovoltaic system.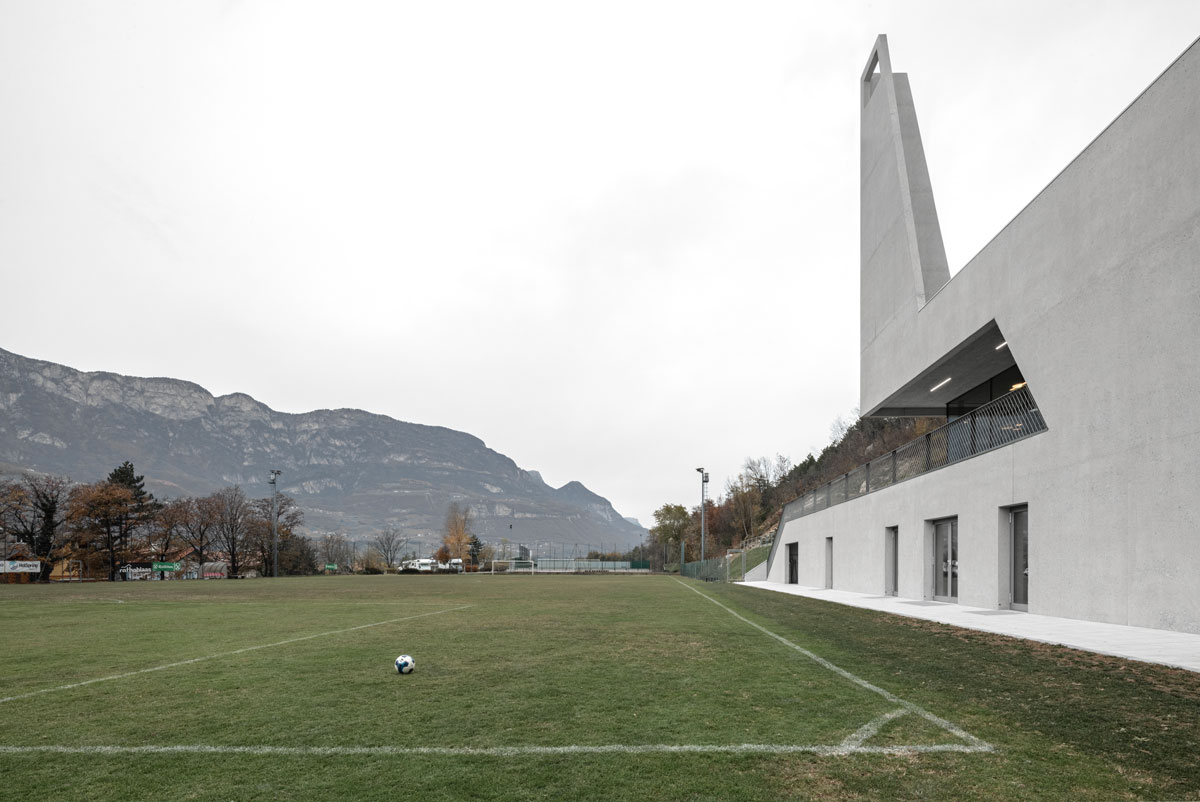 Fieldhouse in Egna is wedged between a football pitch to the north, the existing football field to the west and the steep terrain to the east. With its low-rise building, Fieldhouse transforms from a retaining wall to a long linear roof, and then becomes a raised landscape that serves not only as a viewing platform for sporting events, but also as an open-air venue for social occasions.
The two-storey structure, one at zero level partially underground and one above ground with a large terrace, is made of exposed reinforced concrete. The curtain wall follows the geometries and slopes of the site, forming a uniform envelope punctuated by alternating trapezoidal pillars and sharp cuts at the openings.
From above: floor plan of the ground and first floor; elevation and cross section; the general plan.
On the east side, a slender lighting tower, 11 metres high and tapering upwards, incorporates the lighting poles into a single element, demarcating the corner of the building and in turn becoming a landmark in the landscape.
On the first floor are the caretaker's flat, offices, a meeting and teaching room, the cafeteria space with a kitchen with both indoor and outdoor dining area, and finally a large terrace for parties and public meetings.
On the ground floor are the new changing rooms with showers and toilets for 30 athletes, with a direct connection to both the football pitch and the interior of the building.
Design: Modus Architects