Lecco: Redevelopment of the Al Bione Multi-Sport Centre
The facility overlooking Lake Garlate, where the main football field has already been implemented, is back available to the athletes.
Also published in: Tsport 337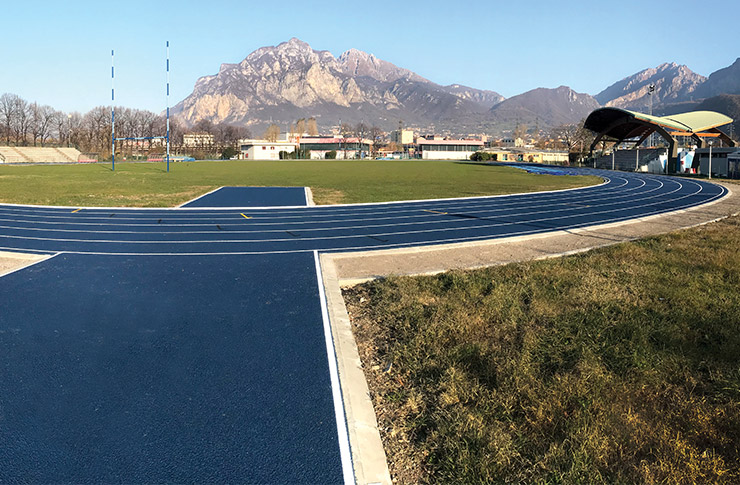 The Municipality of Lecco has promoted the enhancement of the Al Bione Multi-Sport Centre, located on the Garlate lakefront, through projects for the implementation of redevelopment interventions of the sports spaces and support services.
The priority objective of the interventions was to redevelop the multi-sports facility, particularly with regard to the functionality of the main natural grass football pitch and the reconstruction of the athletics track, both of which had deteriorated and were in a precarious condition in terms of maintenance and safety, with the aim of increasing the potential of the sports centre and the offer of high performance activity spaces.
The first step was the transformation of the existing natural grass football pitch with a new synthetic grass surface approved by the National Amateur League (LND).
The new synthetic turf field was built with vertical drainage and a 21 cm high, decreasing grain size stratigraphy and a 60 mm high polyethylene monofilament fibre covering with silica sand stabilisation infill and rubber performance infill (a system certified by the LND), complete with irrigation system as required by current regulations.
The pre-existing track and platforms were paved with a poured surface now dated and subjected to the wear and tear of time and use and was now macroscopically degraded and with subsidence phenomena of the background, therefore no longer suitable for the practice of sport both in terms of performance and from the point of view of safety.
With regard to the choice of type of flooring, a new synthetic draining sprayed sports surface was laid with a total thickness of 13 mm, FIDAL approved with a blue/blue finish.